The bottom of the range of HPE ProLiant servers, the ML10 Gen 9 is currently on offer at extremely competitive prices.This article will point out some of it's advantages and disadvantages when used as a home server/NAS or low-cost desktop machine.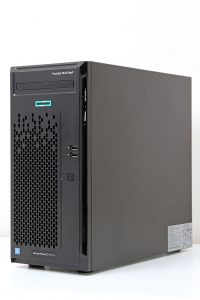 The ML10 comes in a fairly standard tower format, it has a noticeably low-cost construction (especially compared to other HPE ProLiant tower servers). The model under consideration here comes with an Intel Pentium G4400 CPU and 4GB of DDR4 unbuffered ECC RAM. No hard disks, optical drives or operating system are supplied.
The current version of Windows 10 (v1607) installs from a USB memory stick and after Windows Update has run, directly supports all the ML10 hardware.
Here are the main plus points from the point of view of the home user :
6 standard AHCI SATA ports on the motherboard
4 x USB 3.0 ports on rear, 2 x USB 2.0 on front and 1 x USB 2.0 internal port
Takes up to 64GB DDR4 unbuffered ECC RAM (4 x 16GB)
Quiet (although see minus points if adding PCIe cards)
Very low idle power consumption, around 14 – 16 watts (4 x 4GB RAM, 1 x SSD, 1 x 3.5″ HD
Decent CPU (Pentium G4400 with a passmark of around 3600)
Can easily fit 5 x 3.5″ HDs and a 5.25″ Optical drive
And here are the minus points :
Below average build quality – see photos of case side panel
Only DisplayPort 1.2 video outputs – these require an active DP to HDMI/DVI convertor, the standard passive DP to HDMI convertors will not work.
No sound hardware on-board, and sound is not supported over the DP 1.2 ports
Adding PCIe cards (for example, a graphics card to provide HDMI and sound) increases the system ad case fan speeds – resulting in more noise
PSU doesn't supply enough SATA power connectors (only 4), and the supplied ones are very short. SATA power extensions/splitters will be required to support 6 drives in the server
Here are a selection of photos showing the front, rear and internals of the ML10 Gen 9.
The internals show the hard disk mounting bays, 5 x 3.5″ HDDs will fit easily, leaving space for a 5.25″ DVD or Blu-ray drive at the top. These photos also show just how short the SATA power cables supplied are.
The next pair of photos show the 6 x SATA sockets on the main board. SATA 0 has an associated mini-SATA power connector (the same combined 13 pin mini-SATA connector often seen on slimline optical drives). The internal USB 2.0 socket just above the 4 x RAM slots is also shown.
Finally, a couple of shots of the side cover, showing how thin the metal is and the lack of bracing normally found on HPE server chassis.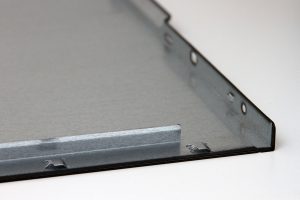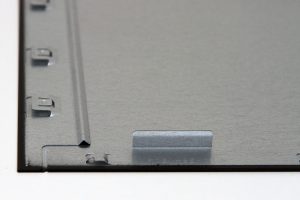 Posted by Charles Durrant, 2016-12-30